Updates:

5/9: St Tammany: Added another photo of L132 to Goodbee FD 13 (St. 132); Other Depts: Added trucks to NAS JRB NO (Plaquemine), added St. James VFD (St. James), added E930 and E923 to Eastside (East Baton Rouge) added a patch to Lockport (Lafourche FD 2), added L517 , St. 53, and patches to SJBP (St. John), and Lobdell R48 (West Baton Rouge FPD 1); Jefferson: Added Gould Steamer (Louisiana Fire Museum) and another photo of E638 (St. 63)

4/19: Jefferson: Added photo of E648; Other Depts: Added Pierce Mfg. Demos to Other, City of Alexandria E10 to Rapides Parish, Added R675 and R/E 1 to East Baton Rouge (St. George), Added Henry VFD (Vermillion Parish) and E721 to St Charles Parish (Des Allemands); St. Tammany: Added M41 to Mandeville (St. 41), and E12 to Slidell (St. 12)

3/12: St Tammany: Added Refurb'd Folsom Tanker 52 (St. 51) and Mandeville L43 (St. 43); Jefferson: Added 603 to Harvey (St. 64) and Kenner E368 (St. 36) old E878 (St. 87); Other Depts.: Added Chief 928 and Servie 919 to Bayou Gauche (St. Charles Parish), Added E33 to Prairieville (Ascension Parish FD 3) and Little Caillou E3 (Terrebonne Parish FD 7)

1/10: Other Depts: Added patches to Port Sulphur (Plaquemines Parish) and to St. George (East Baton Rouge Parish)

1/4: St. Tammany: Added new St. 18 (District 1-Slidell St. 18), new E53, Unit 53, B51, and S51 (District 5- Folsom St 51 and 53); Jefferson: Added new E328 and new S349 (Third District St 32 and St 34), and St 91 construction (Westwego St 91)

Welcome to gnofirephotos.com, Southeast Louisiana's most comprehensive collection of fire department pictures and information.  This website will not only include fire departments from the Greater New Orleans Area (and from my other website
www.jpfd.net
), but it will also include photos that I have taken from other parishes and from other states.  I would like to thank every fire department official and everyone in general that has helped me obtain pictures and information.  Please have patience as I add more photos and information.  If you find any incorrect data please let me know, so I can examine/correct the issue.  Some station pages may not have current apparatus and may include trucks that are no longer in service/with the agency.  Photos posted include film, early digital, and advanced SLR in varying qualities. If you do not see your company on here and are in the area please contact me, and we can set something up.  Thank you, and I hope you enjoy the site.
                                                          -William "Matches" Cunningham

                                                                     Firefighter/Operator, Harahan Fire Department

                                                          wildbill83@yahoo.com

4/29/17: Eastbank Consolidated responded to an accident with injury at Riverdale and Jefferson Highway.

Goodbee's Ladder 132 (St. Tammany Parish District 13) in Goodbee, LA

NAS JRB New Orleans's Unit 844 (Plaquemines Parish) in Belle Chasse, LA

St. John the Baptist Parish's Ladder 517 in Laplace, LA

St. James Parish's Engine 10 in St. James, Louisiana

Harvey's Engine 638 (Jefferson Parish District 6) in Harvey, Louisiana

David Crockett's Steamer (Jefferson Parish) in Gretna, Louisiana

West Baton Rouge FPD 1's Rescue 48 (West Baton Rouge Parish) in Lobdell, LA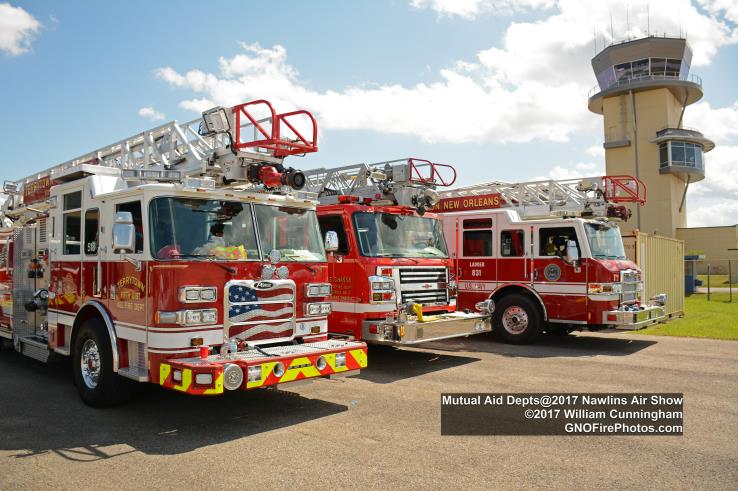 4/22/17: Belle Chasse and Terrytown provided mutual aid coverage for the 2017 Nawlins Air Show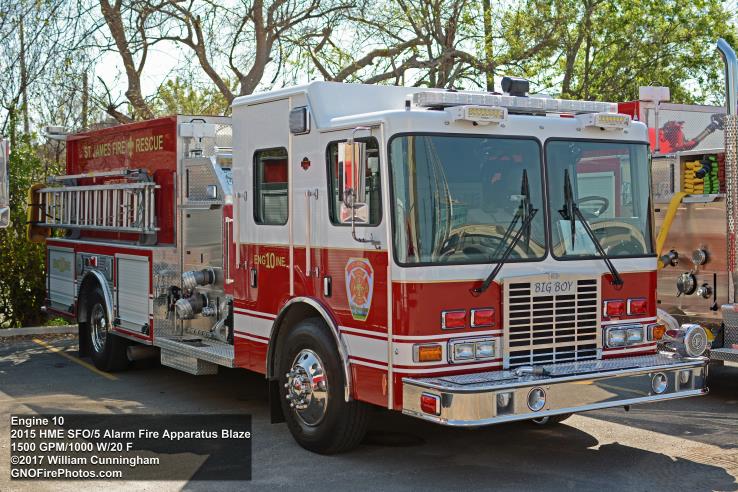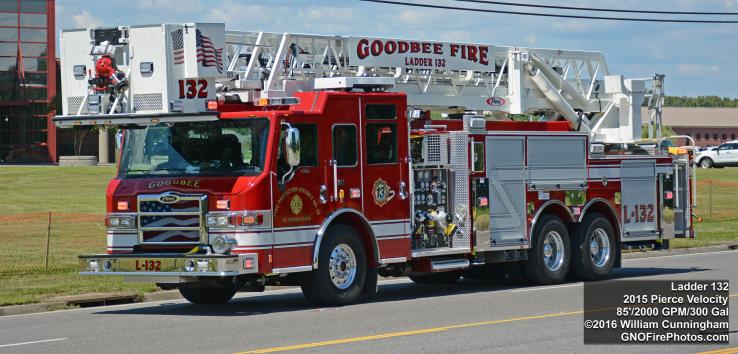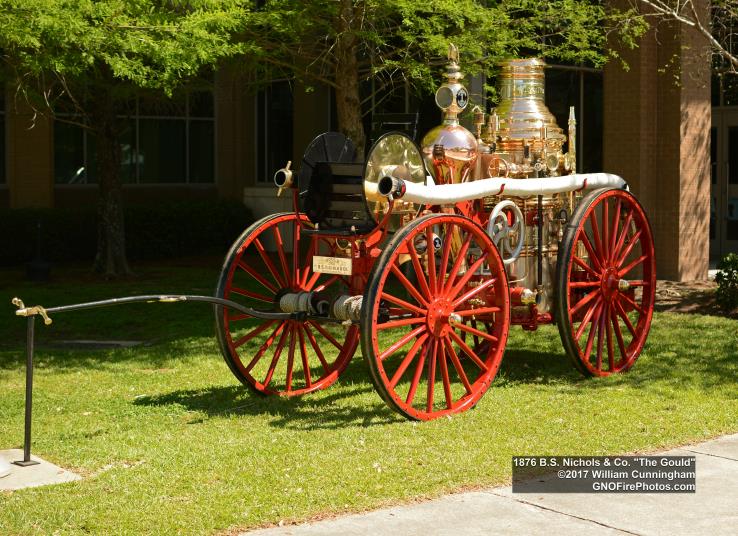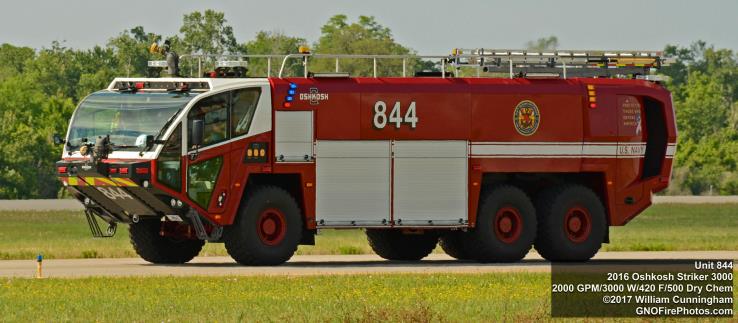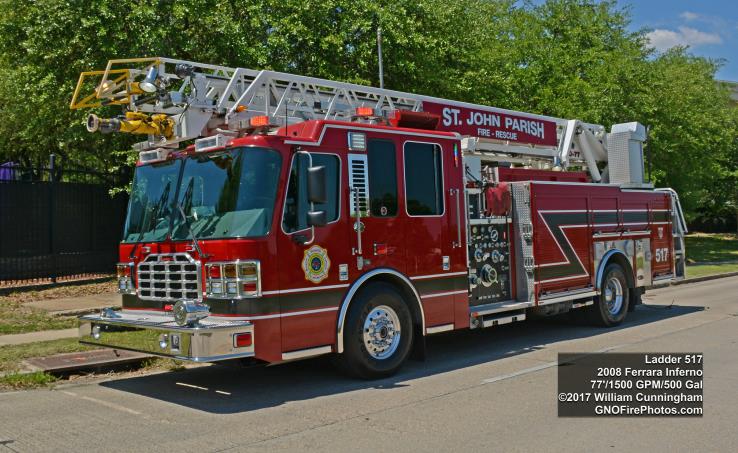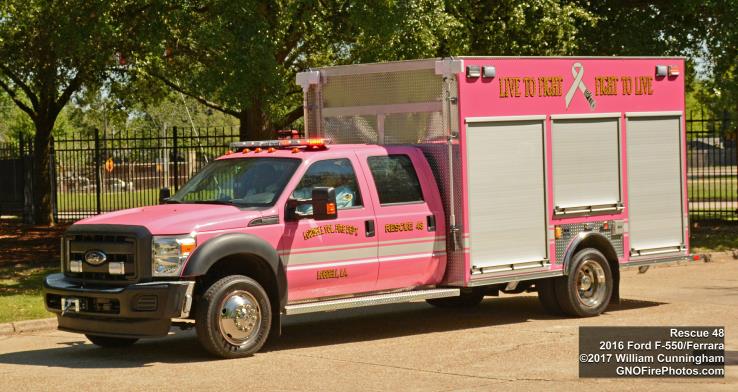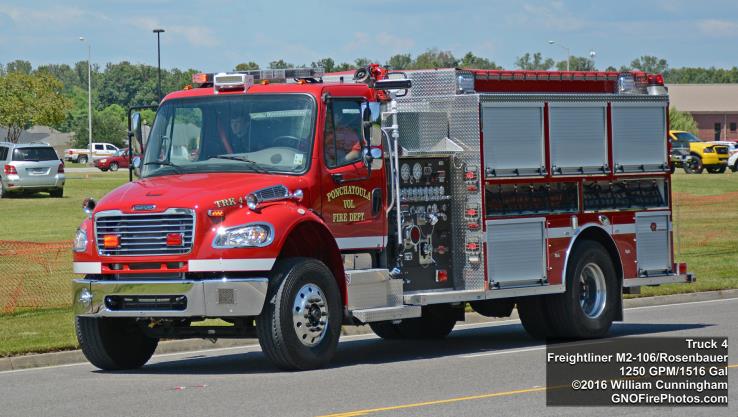 Ponchatoula's Truck 4 (Tangipahoa Parish) in Pontchatoula, LA

Eastside's Engine 930 (East Baton Rouge District 5) in Baton Rouge, Louisiana