Updates:

5/2: ST. Tammany: Added L11 and L14 (STFPD 1 Sts. 11 and 14) and E93 (STFPD 9 St. 93); Jefferson: Added L377 (Kenner St. 37) and patches to Marrero Estelle, Kenner, and Live Oak Manor; Other: Added Antiques to Lafourche Dist. 2 (Lockport), E20, E23, E25, and HQ30 to Thibodaux (Lafourche FD), and added patches to LSU-FETI, BRFD, Prairieville, West Baton Rouge FD, Lafourche FD 3, Thibodaux, Franklin, Alexandria, Slaughter, Napoleonville

12/8: Jefferson: Added a patch to Crockett, New E748 (St. 74), New E958 (St. 91), New St. 91 (St. 91), C860 (St. 86), and Ochsner's Rescue 1 (Old) Orleans: Added old L2 patch (E14); St Tammany: Added new E122 (St. 122) and a patch to Covington; Other Depts.: Added patches to Pierre Part (Assumption Parish), Belle Chasse NASJRBNO (Plaquemines Parish), Point a la Hache (Plaquemines Parish), Boothville Venice (Plaquemines Parish), Norco (St. Charles Parish), St. James (St. James Parish), Lafourche Dist. 1 (Lafourche Parish), St. John the Baptist (St. John Parish), and to Zachary (East Baton Rouge Parish);Also added Choctaw Unit 512 (Lafourche District 8b) and Salvage 24, Salvage 29, Engine 19, and Air 1 to Thibodaux (Lafourche FD 4/Thibodaux), Houma Fire Station 4 (Terrebonne Parish), and Ashaway Tanker 415 (Washington County, Rhode Island).

7/4: St. Tammany: Added new R11 (Slidell D1 St. 11) and Sun Dist 10 Patch (St 94, Dist. 9); Other Depts: Added Vacherie-Gheens (Dist. 9 Lafourche Parish), Pierre Part E43 (Assumption Parish), Labdieville Engine (Assumption Parish), Florosa FCD RE53 (Okaloosa County Florida), and patches to Lafouche Dist. 3 (Lafourche), St. James FD (St, James), Winnfield (Winn), and Zachary (EBR); Orleans: Added New Engines 6,8,9,13,18,24,26,36, and 38 and photos to Rescue 2; Jefferson: Added Old Harvey Foam Unit (St. 63)

Welcome to gnofirephotos.com, Southeast Louisiana's most comprehensive collection of fire department pictures and information.  This website will not only include fire departments from the Greater New Orleans Area (and from my other website
www.jpfd.net
), but it will also include photos that I have taken from other parishes and from other states.  I would like to thank every fire department official and everyone in general that has helped me obtain pictures and information.  Please have patience as I add more photos and information.  If you find any incorrect data please let me know, so I can examine/correct the issue.  Some station pages may not have current apparatus and may include trucks that are no longer in service/with the agency.  Photos posted include film, early digital, and advanced SLR in varying qualities. If you do not see your company on here and are in the area please contact me, and we can set something up.  Thank you, and I hope you enjoy the site.
                                                          -William "Matches" Cunningham

                                                                     Firefighter/Operator, Harahan Fire Department

                                                          wildbill83@yahoo.com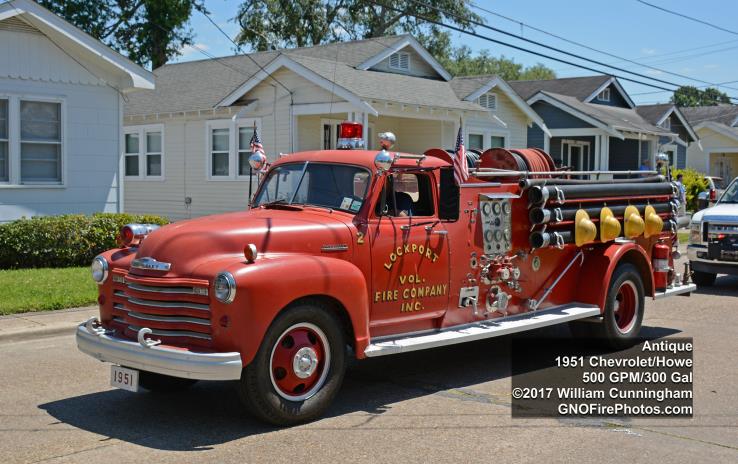 Lafourche Fire District 2's Antiques in Lockport, Louisiana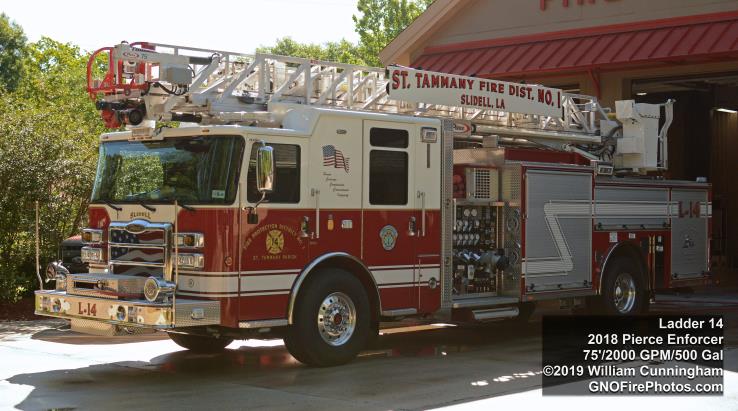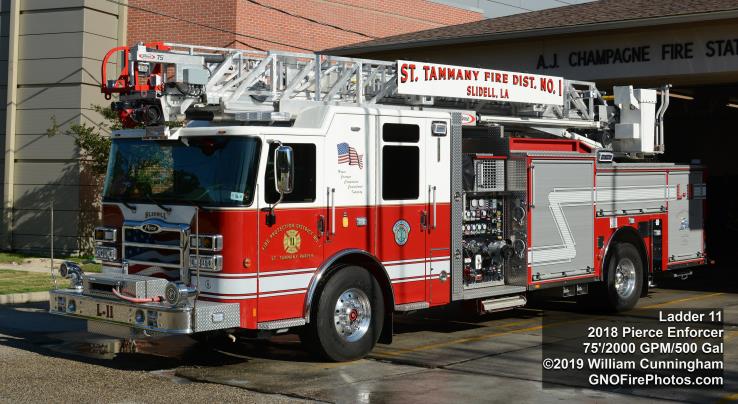 St Tammany Fire Protection District 1's Ladder 11 and Ladder 14 in Slidell, Louisiana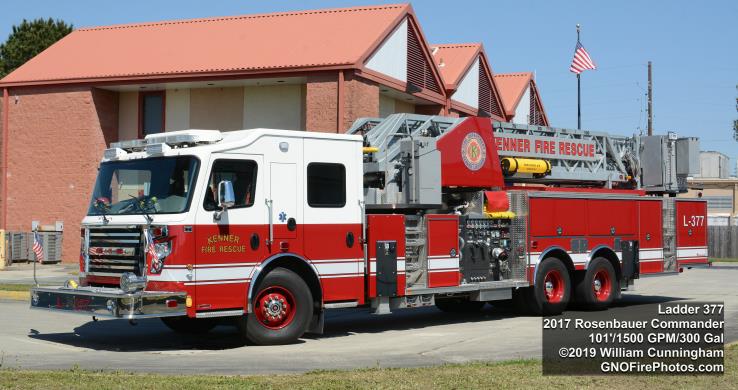 Kenner Fire's Ladder 377 in (Jefferson Parish) Kenner, Louisiana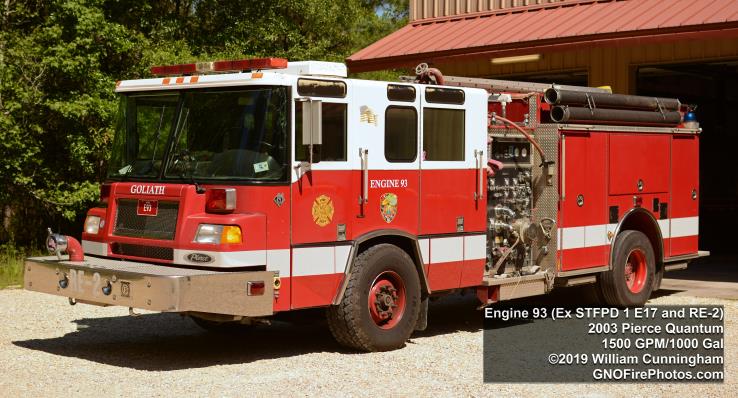 St Tammany Fire Protection District 9's Engine 93 in Bush, Louisiana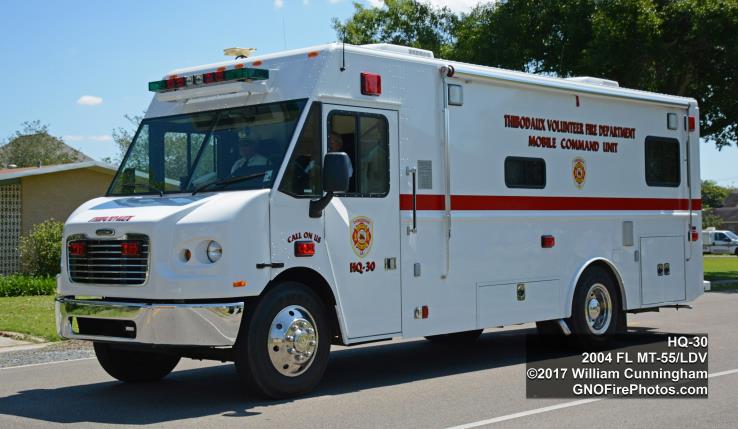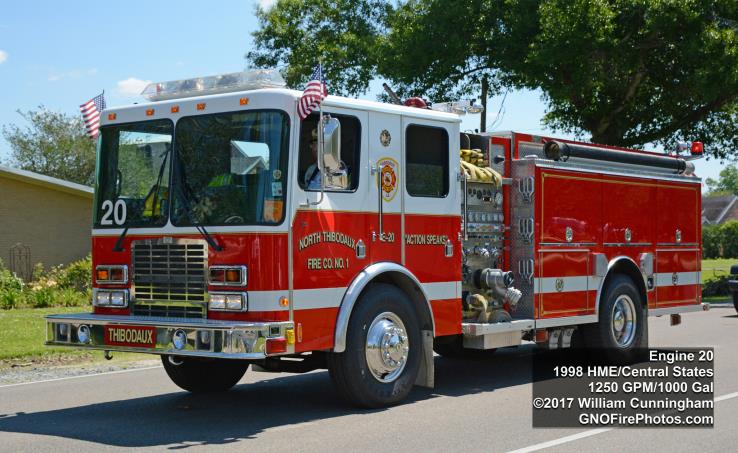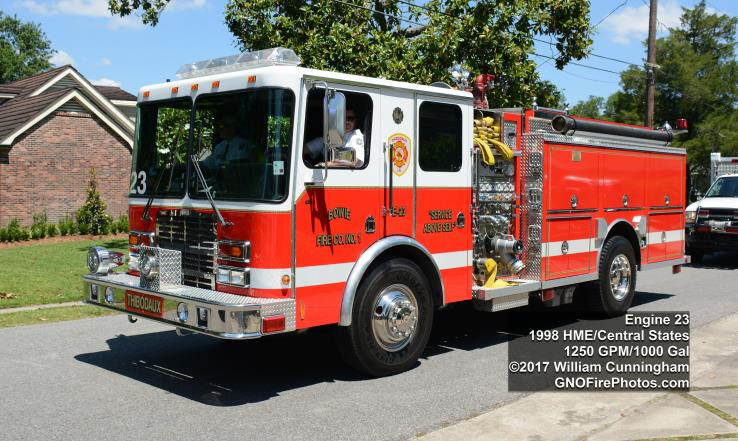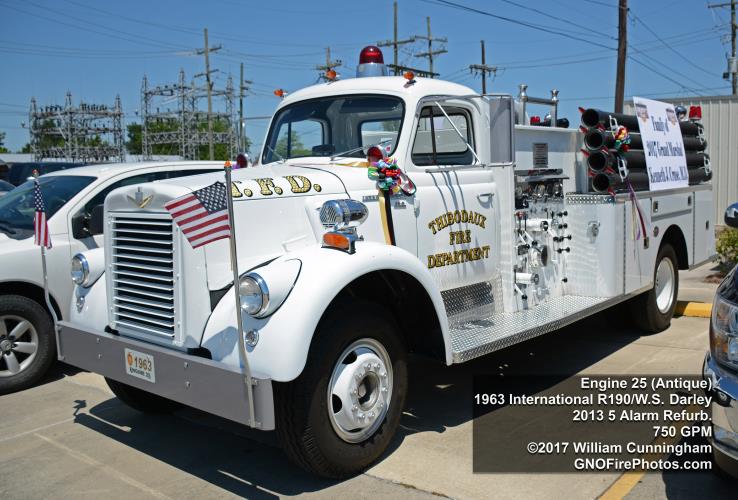 Thibodaux/Fire District 4's Command Post, Engine 20, Engine 23, and Engine 25 (Antique) in Thibodaux, Louisiana

Jefferson Parish Eastbank Consolidated FD's Ladder 177 and Safety Officer 103 in Jefferson Parish, Louisiana