Updates:

12/30: St Tammany: Added St 125 Construction Photo (ST. 125)

12/7: St Tammany: Added new L11 (St. 11), new HM1 and Black and White Engine Bay Photo (St 17), Station 14 (St. 14), M121 and M123 (St. 124) and a patch to Lacombe District 3; Other Depts: Added Patches to Lafayette (Lafayette Parish), and Fort Walton Beach (Okaloosa County, FL); St Bernard: Added a patch to Chalmette Refinery

10/30: Jefferson: Updated truck info for station 47 (Crockett)

10/8: Other Depts.: Added a patch to every Plaquemines Parish Fire Department, Added a Patch to Scott (Lafayette Parish), Added Chief 52, Hazmat, and New St. 14 Construction to City of Lafayette, Added New Smyrna Beach Brush 51 (Volusia County, Florida), and Added Forest Service (Florida)

9/14: Jefferson: Added updated and more photos from the 2005 Hurricane Katrina Apparatus Evacuation to each page and added 2012 National Night Out Against Crime to Kenner Police

9/12: Jefferson: added patches to Harvey, Marrero Estelle, Terrytown, and NOFD Engine 46; St Tammany: Added a Patch to Mandeville; Other Depts: Added Patches to St George, Iberia FPD 1, Lockport, Zachary, LA State Fire Marshal, Little Rock, Jacksonville, and Camp Lejeune

Welcome to gnofirephotos.com, Southeast Louisiana's most comprehensive collection of fire department pictures and information.  This website will not only include fire departments from the Greater New Orleans Area (and
www.jpfd.net
), but it will also include photos that I have taken from other parishes and from other states.  I would like to thank every fire department official and everyone in general that has helped me obtain pictures and information.  Please have patience as I add more photos and information.  If you find any incorrect data please let me know, so I can examine/correct the issue.  Some station pages may not have current apparatus and may include trucks that are no longer in service/with the agency.  If you do not see your company on here and are in the area please contact me, and we can set something up.  Thank you, and I hope you enjoy the site.
                                                          -William "Matches" Cunningham

                                                                     Firefighter, Harahan Fire Department

                                                          wildbill83@yahoo.com

St. Tammany Fire District 1, Slidell, LA, Ladder 11

Eastbank Consolidated, Jefferson Parish, LA Station 19 Reconstruction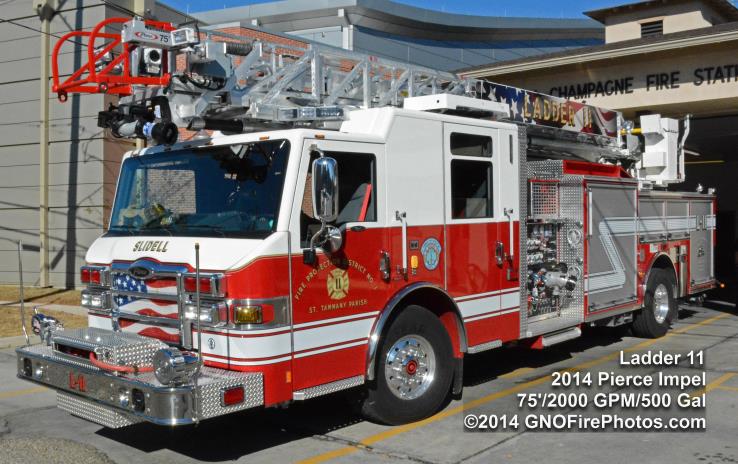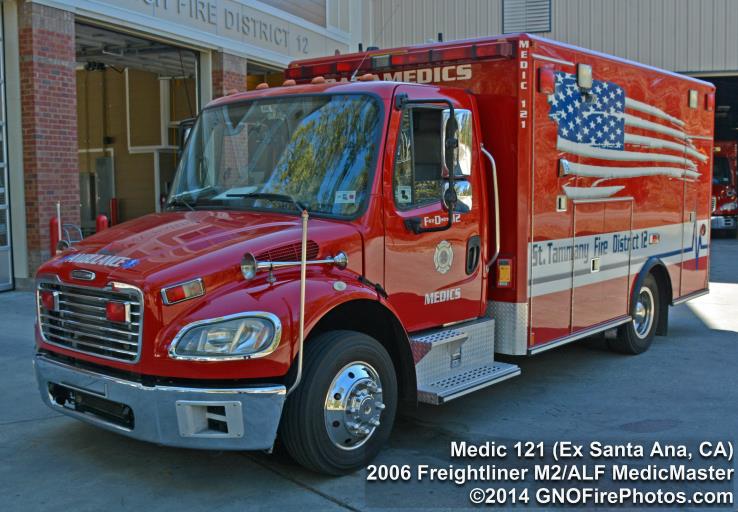 St. Tammany Fire District 12, Covington, LA, Medic 121

St. Tammany Fire District 1, Slidell, LA, Hazmat/Special Operations 1

St. Tammany Fire District 12, Covington, LA, Station 125

Eastbank Consolidated, Jefferson Parish, LA Engine 198

(2014 Ferrara Igniter, 1750 GPM/500 Gal)

St. Tammany Fire District 12, Covington, LA